It's only a $454 million market and represents but a small fraction of the sales Apple Inc. (Nasdaq: AAPL) generates in its hardware operation. But Netflix Inc. (Nasdaq: NFLX) has won huge bragging rights in the online movie business by rapidly overtaking its much bigger rival to become the No. 1 player in the segment, according to a recent report from IHS.
Seemingly coming out of nowhere, Netflix raised its US online movie marketshare from less than 1 percent in 2010 to 44 percent last year, IHS said. The rapid rise in its share of the subscription video on demand (SVOD) market contributed to the whittling down of Apple's stake to 32.3 percent from approximately 61 percent in 2010. That share was as high as 71.5 percent in 2009, when Netflix was not even a player in the sector.
Netflix borrowed a page from the Apple playbook. As it maintained its focus on the video disc rental business, plummeting sales sent Netflix into a downward spiral. It had to adopt a new business model that moved in line with changing customer patterns and moved most of its services online. Much as Apple did in the middle of the last decade, Netflix leveraged its customer loyalty and instant name recognition in the video hardware rental business to the online operation. The shift from hardware rental to online service is almost complete, and IHS said Netflix sales may not grow quite as fast in the future.
"2011 marked a sea change in the online movies business that saw the balance of consumer spending shift from a DVD-like transactional model to more TV-like subscription approach," Dan Cryan, research director for digital media at IHS, said in a press release on the report. "The online movie business more than doubled in 2011 to reach $992 million and it is expected to double this year as well."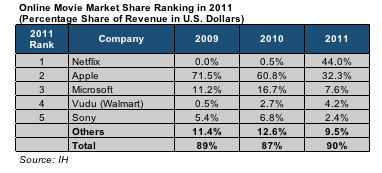 The competition is about to intensify. Companies like Wal-Mart are gaining rapidly on the two leaders. The marketshare of Wal-Mart's Vudu service, whose model is similar to the Netflix one, increased to 4.2 percent in 2011 from 0.5 percent in 2009 and could rise further in the coming years as customer adoption increases for the entire market. Cryan said some of the gains his firm expects for Vudu will come at the expense of Netflix, rather than Apple.
That's because the business model Apple is using with its iTunes service is quite different from the monthly subscription model favored by Netflix. Under Apple's system, consumers pay each time they download a movie, but they are allowed unlimited monthly access to an extensive range of offerings with the Netflix SVOD model. Cryan said Apple could benefit from rising hardware sales, including iPhones and iPads, which would also drive VOD consumption.
As IHS said in the release:
The stunning growth in SVOD revenue seen in 2011 is not likely to continue at the same rate in the future.
Netflix's customer transition is now complete. And while its effect will be felt into 2012, which will be the first full year of paid streaming, Netflix's U.S. digital customer base is likely to expand at a slower rate, in keeping with premium pay-TV channels. Consequently, IHS expects transactional VOD to experience stronger growth than SVOD after 2012 unless there is a significant market entry, such as a standalone HBO streaming subscription or a full-fledged pay-TV subscription service delivered over the open Internet.
Translation? Netflix should enjoy its No. 1 status while it can. Apple and the rest of the competitors aren't really that far behind.