As the US prepares to choose its next president, there's a lot of analysis being done on what the current administration has accomplished in the past four years. One of the platforms of the first Obama campaign was a commitment to renewable energy. High tech was to be a beneficiary of government investment in alternative energy and energy conservation. It hasn't been a bust, but neither has it been a boon.
The most visible failure during the past four years was an investment in Solyndra, a now-bankrupt solar panel maker that was backed by government loans. Several other high-profile solar companies have stumbled. In electronics, component makers are active in solar, energy storage and conduction technologies are in demand, and electronic manufacturing services (EMS) companies benefit from the manufacturing of panels and panel systems. Overall, all component categories support alternative energy development as well as energy-savings technologies.
Within the electronics supply chain, renewable-energy-related boons have been spotty. Leading vendors in LEDs -- an industrial lighting technology that's penetrating the consumer market -- traditionally have not sold through electronics channels. Distribution companies in particular have taken advantage of the LED opportunity and in many cases have created specialty lighting divisions catering to customers unfamiliar with the technology and vendors new to the channel. Solar panel makers -- the end customers for chip companies -- also work with channels atypical to electronics vendors, such as construction companies.
So where is the growth? Overall, the electronics industry's sales in second quarter 2012 have been lackluster across the board, although lighting was cited as an exception by a few companies. By all accounts, the US continues to invest in renewable energy: In 2011, US investment in renewable energy was roughly $51 billion, according to a USA Today report. CNN reports the government provides roughly $24 billion in subsidies. China's overall investment was $52 billion, USA Today reports. The Chinese government heavily subsidizes renewable energy efforts in the nation which has recently led to a tariff spat between the US and China over solar technology.
Solar is forecast to slow down in 2012 after two years of rapid growth. The photovoltaic (PV) market -- a gauge of solar technology use -- grew in 2011 based on the number of new solar installations, according to market researcher IHS. Solar installations climbed 40 percent in 2011 to an estimated 25.0 gigawatts (GW), up from 17.9 GW in 2010. The outlook for 2012 isn't so bright:
The two year run of notable growth, including the blistering 146 percent expansion of 2010, will end this year when solar installations dip 6 percent to 23.3 GW. Given budget difficulties and political blowback, governments in many countries are expected to slash tariffs and reduce support, which would have the effect of discouraging builders and investors. But PV potential remains outstanding after 2012 as growth continues in emerging territories, with new installations forecast to reach 61.3 GW by 2016.
LED will continue to be a bright spot -- literally -- for the supply chain. According to market research firm Strategies Unlimited, the global high-brightness LED market grew from $11.3 billion in 2010 to $12.5 billion in 2011, a growth rate of 9.8 percent. Demand for LED components in the lighting market grew 44 percent, from $1.2 billion to $1.8 billion.
On the supply side, 10 companies accounted for almost 70 percent of the LED market, Strategies Unlimited reported. Top 10 suppliers in the LED market for 2011, by revenue of packaged LED components, were:
Nichia
Samsung LED
Osram Opto Semiconductors
LG Innotek
Seoul Semiconductor
Cree
Philips Lumileds
Sharp
TG
Everlight
Most of these vendors have a presence in the electronics supply chain. Avnet Inc. (NYSE: AVT) has recently expanded its services offering in LED with the establishment of a lighting lab in Chandler, Ariz. The lab allows customers to test and measure a wide range of LED applications.
George Kelly, technical specialist and LightLab manager, Avnet Electronics Marketing Americas, said in a press release:
The demand for LEDs has reached an explosive growth phase. Avnet LightLab's capabilities coupled with Avnet's national team of LED-focused illumination engineers ('illumineers'), substantially reduces our customers' design time and provides a means to weigh various design options; ultimately optimizing their end-products' performance and extending their competitive edge.
One other market that provides a growth opportunity for electronics in the US is the smart grid, which has received a total of $4.6 billion to date from the Smart Grid Investment Grant (SGIG) program. Electronics is pervasive in all aspects of deployment, as illustrated below: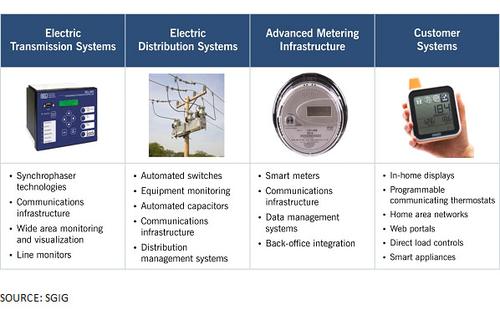 Analysts estimate more than $23 billion will be spent in the US on IT for utilities. Avnet Technology Solutions, Avnet's computer and systems business, has established a vertical sales group focused on smart grid. Services include utilities data management, utilities infrastructure optimization, asset, and device and service monitoring, utilities risk management and compliance.
Clearly, the promises of alternative energy are considerable and opportunities abound in the supply chain. However, government grants, supply chain players report, take a while to filter down to component suppliers and distributors. Implementation is spotty, largely depending on cities and locales that are investing in infrastructure. In the near-term, private corporations seem to be holding back on large investments in any kind of upgrades pending an economic turnaround. Therefore, it's unlikely electronics will see either a large or fast infusion of cash anytime soon.