To wrap up this Fitbit experiment, I'd like to address some of the comments from my previous articles. (See: My Fitbit Experiment: Week Two and My Fitbit Experiment, Day 1.)
Nemos said "At first I want to give you congratulations because of the above graphs (especially the step graph) it looks like that you have a fit and active life. (I hope it is not only for the experiment purposes)."
Thank you Nemos, but I haven't really been too active in the last month. During this entire experiment I haven't gone to the gym, haven't done any running, swimming, kayaking, etc. Like most of us, I work at an office job, and I am mostly sedentary during the work day. So perhaps a useful aspect to the Fitbit is how active it will show we actually can be on the average day as long as we remember to use it. The goals it has set for us are entirely realistic.
On that note, the Fitbit's accuracy does depend on what type of activities you're doing and how you're wearing the device.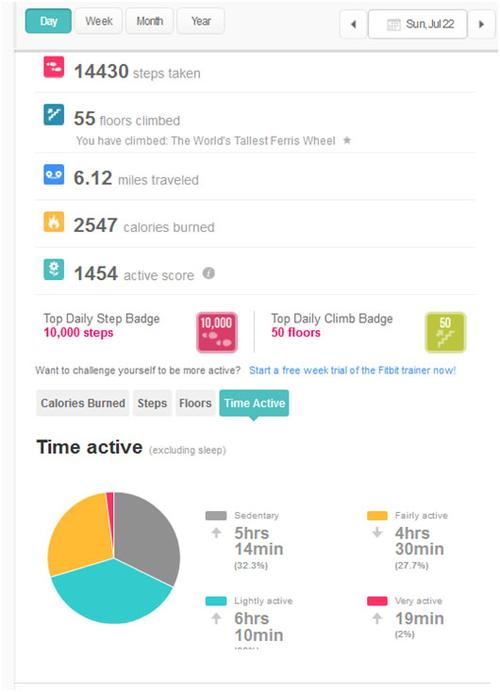 On that Sunday, the Fitbit is claiming I was sedentary for over five hours. Let me go through that Sunday with you. Woke up at 8:30 a.m. Dishes and laundry were started at 9:00 a.m. By 11:00 a.m., I was removing nails from house siding and gathering large pieces of siding from the basement; break at 12:30 p.m. From 2:00 to 8:00 p.m. I was cutting plywood and siding. Another break and then it was time to do a dog walk. Asleep by 11:30 p.m. That day I was keeping the Fitbit in my pocket instead of on my wristband.
On days like that you can really see just how step-dependent the Fitbit is. There have been other days when I've done nothing but hang out on my computer all day with the Fitbit attached to my wrist, and somehow my sedentary hours are closer to two or three. It makes no sense to me. >
Bolaji asked, "Seriously, is the Fitbit going to catch on and become a mainstay product or will it fizzle out and end up in the buyers' attics?"
Good question. I imagine many of us have those closets filled with old and unused electronics, and the Fitbit may get lost in that seemingly infinite space as well. But this market is in its infancy, and its usefulness is currently limited. As it matures and adds more features, we'll see it move out of the fad electronic phase.
As elctrnx_lyf said: "Something to track the number of steps is easy. But something that can track our sleep, oh definitely not that easy."
Right. The step tracker, the stairs climbed tracker, those are all easy things. The calories in/out, the sleep monitoring, the activity level, those are all just estimates that can vary daily in accuracy. These products need more than just a step and stairs tracker in order to really catch on.
Analog Devices Inc. (NYSE: ADI) is on it. On August 6, Analog Devices announced a low-power, single-lead heart-rate monitor (AD8232 AFE). It's 50 percent smaller and uses 20 percent less power than other solutions, and the price is just $1.36/1k unit. It's available this month, so I don't think it's unrealistic to see a Fitbit type of product with a built-in heart-rate monitor at under $150 sometime next year.
Home healthcare is a huge market, and it can't exist without data collection, which is where products like the Fitbit come in. Worldwide we're looking at over 860 million people suffering from chronic disease and over 600 million seniors wanting to "age in place" instead of go to a nursing home. That doesn't even include people looking to lose weight.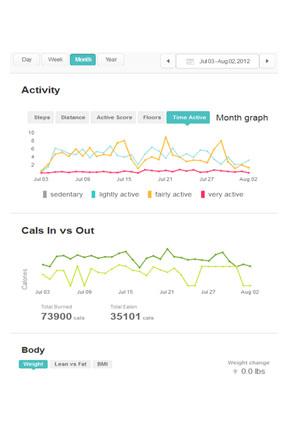 Above we can look at the summary for the month's activities. I tried to log my calories, but even when over-estimating, it just seems completely off. After July 27 I just started estimating about 1,680 calories eaten per day, and I only matched one day's worth of calories burned.
To lose one pound we're supposed to burn 500 calories a day, 3,500 calories a week, 14,000 calories a month. If I overestimate every day I eat and just assume I ate 1,680 calories every day, then I'd have taken in a total of 47,040 calories and burned off a total of 26,860, and that's not including the days where I forgot to wear the Fitbit. So I should have lost around 7 lbs., and I haven't. If I really overestimate and say I ate 2,000 calories every day, then I still burned off an extra 18,000 calories, then I should have lost around 4 lbs., and I haven't.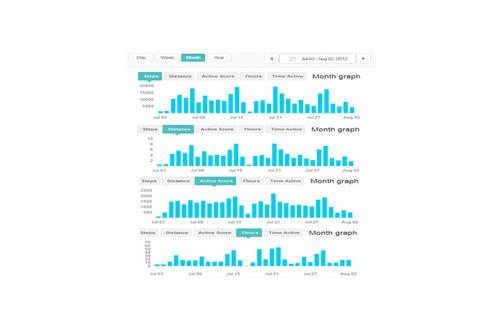 These charts really show that I'm much more active over the weekends than the weekdays, and those days where I forgot to wear the Fitbit really show.
All in all, get the Fitbit if you're looking to lose weight. But get two. One for you and one for your friend, and compete. Otherwise wait for that heart-rate monitor to up the accuracy.
As for me, I'm signing off the whole Fitbit thing for now. Ignorance is bliss.