I'm always fascinated to hear a person's take on Facebook (Nasdaq: FB). I mean, it's a Website -- a system of interconnected pages on a server somewhere in California. It has no weight or height; no guarantees even that it will exist in the morning. And yet, this entity holds so much fascination for people.
They love it or they hate it. They search for mates and old friends and even hire killers on it. They freely give it information with little return on that intellectual investment. It has become sewn into the fabric of our media and our conversations, as Google (Nasdaq: GOOG) did some years back.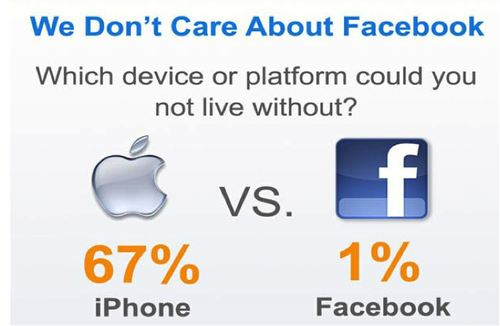 Facebook is so big in our collective conscience, in fact, that other social sites, new and old, are no longer allowed to exist on their own merit. If you say you love Pinterest, invariably there is another person in the room who asks why you use Pinterest and why not just Facebook? Forget that they are totally different sites with vastly different intents. The same is true for Twitter and for LinkedIn.
What happened to our love of differentiation? Perhaps the overwhelming nature of social media, and the proliferation of sites, logins, profiles, and ways to interact, has driven people from demanding choice to craving simplicity. But is that a good thing?
I hear people refer to Facebook as "theirs" and that they don't know what they would do without it. But Facebook isn't ours: it does not belong to the people. If it did, we would have a Dislike button, and Timeline would just have been an idea that we happily left on the cutting room floor.
And Facebook Ads? Sure, we can put up with them, as long as we don't have to pay. But what happens when the ads become more annoying, as they did on MySpace? What would you pay to not see them? What is your Facebook experience worth? If you have poured your heart and soul and pictures into it for years, then that price can be quite high.
Now that Facebook is public, I foresee the introduction of new revenue streams. The heat is on for the FB cronies to expand beyond ad revenue that amounted to a little over $4 dollars per user globally in 2011. Granted, Facebook is the world's largest social network, with over 845 million monthly active users, so doing the math nets you a solid chunk of change, but that won't be enough.
Hurdles are in Facebook's future around regulatory and privacy issues that it has no immediate answer for. Couple that with a newer generation that may not be as interested in the social network their parents are on, and you can see a recipe beginning to form. A recent article in the LA Times wrote about the challenges Facebook faces with the younger generation: >
When Facebook got started, Paris Hilton was wearing a velour tracksuit. At some point Facebook will become the velour tracksuit.
I know. Can of worms, right? So let me have it. What are your thoughts on the future of Facebook, its importance to the next generation, and even the possibility of a world without it?