On Aug. 28, I read about the acquisition of Petalogix, which offered an embedded Linux platform for FPGA, by Xilinx Inc. (Nasdaq: XLNX). It reminded me of all the embedded operating system acquisitions made by chip companies, hardware companies, and larger tool companies in the last decade. I wonder if the trend will continue and how many embedded processor companies aspire to owning and controlling their own OS.
Companies pondering this strategy must weigh the benefits of being able to control both the hardware and the OS (the Apple model) versus leveraging external partners for the OS (the Microsoft/Intel model or an open-source model). Companies contemplating an acquisition must consider factors such as the cost of supporting and maintaining a target OS internally, the cost of acquiring and integrating the target company, and other potential uses of cash and resources.
These factors are weighed against the additional revenue to be gained by offering a better, more tightly integrated, and more directly supported product. Sometimes buyers make a strategic decision to enter a market and pay a higher multiple for the target company. Other times a buyer sees an opportunity to obtain an OS company for a reasonable multiple. Whatever the internal reasons for such acquisitions, there have been a lot of them since the 1990s.
Most of the time, real-time operating system (RTOS) companies are acquired to integrate the OS into the tools platform of the acquirer. Back in the late 1990s, I was selling TI's DSPs like the TMS320C548 and TMS320C32. Remember those? In 1998, Texas Instruments Inc. (NYSE: TXN) acquired Spectron Microsystems of Santa Barbara, Calif., bringing the DSP/BIOS and SPOX embedded OS in-house. TI also acquired Go DSP of Toronto in 1997, bringing in the Code Composer developer platform. TI created an excellent development platform by integrating those tools into a powerful OS and IDE platform. TI gave away the OS and sold the IDE for a nominal price. This gave customers a great development platform for a low price, which accelerated time to market, meaning more DSP chip sales.
Other strategic examples include the 2002 Mentor Graphics Corp. acquisition of Accelerated Technology and its Nucleus OS platform, which was integrated into the Mentor software development platform. As recently as 2008, we saw Nokia Corp. (NYSE: NOK) buy the remaining interest in Symbian, even though shortly thereafter, Nokia made the 180-degree decision to drop the OS and move to Microsoft.
Companies also frequently make acquisitions to eliminate competition. In 1999, Wind River Systems Inc. acquired Integrated Systems, which sold the very popular pSOS embedded OS. Wind River quickly killed pSOS, eliminating the key competitor to VxWorks before embedded Linux became prevalent.
In 2009 and 2010, there were several strategic blockbuster acquisitions. Intel acquired Wind River, Cavium Networks acquired MontaVista, and Research in Motion acquired QNX. The following table shows some of the key embedded OS acquisitions in the past decade or so, including the transaction value.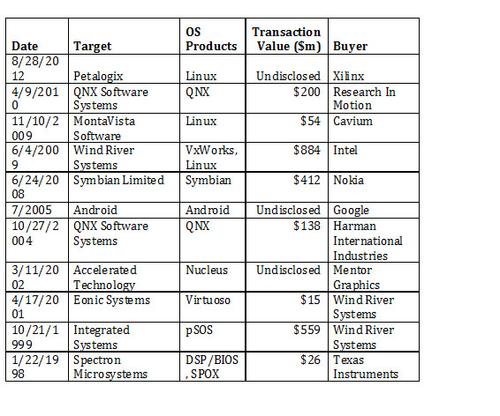 Will this consolidation continue? If so, who is next? A variety of high-quality independent embedded OS companies still exist, such as Green Hills (Integrity), LynuxWorks (Linux), TimeSys (Linux), ENEA (OSE), ExpressLogic (ThreadX), and of course Microsoft (Windows). Wikipedia has a good list of real-time OS solutions here. It wouldn't surprise me to see several of these companies acquired in the coming years.