A good year for the electronics industry means more products made and sold. We all celebrate. At the same time, we need to be thinking about where the devices being thrown out and replaced are actually going.
Everything from cars and refrigerators to cellphones and gadgets are littering landfills all over the globe. The organization Solving the E-Waste Problem (StEP) estimates that, worldwide, by the end of 2017 end-of-life electronics, including refrigerators, TVs, mobile phones, computers, monitors, e-toys, and other products with a battery or electrical cord would comprise enough volume to fill a line of 40-ton trucks end-to-end on a highway straddling three quarters of the equator. Over five years, that's a 33 percent jump, the organization said.
As an industry, it's time to get a handle on the question of product lifecycle, from cradle to grave. Jane Nishida, acting assistant administrator at the US-EPA Office of International and Tribal Affairs, said in a StEP press release:
EPA partnered with the United Nations University's Solving the E-waste Problem (StEP) Initiative understanding that the growing e-waste problem can only be addressed effectively when we have better information on the global flows of used electronics. We are pleased that StEP, working with the Massachusetts Institute of Technology and the National Center for Electronics Recycling, was able to deliver a report that provides a scientific-based approach to generating information on US exports of used electronics.
Take a look at this infographic from Good for an eye-opening look at just how big a problem this is. What's the role of the supply chain in tackling this growing issue?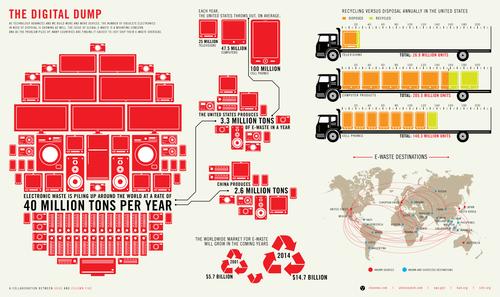 To read more about product design for the environment in the electronics industry, read our new Velocity e-Mag titled The Sustainability Balancing Act.



More Blogs from Hailey Lynne McKeefry
Tablets, smartphones, and laptops are technology table stakes for most American consumers -- so let the buying continue. A recent survey traces plans and wishes for electronic toys.
The Purchasing and Manufacturing Survey from Prime Advantage shows continued optimism about revenue and employment, despite concerns about rising costs and a lack of qualified workers.
As much as we talk about the reality of counterfeit electronic components, the problem of counterfeit electronics goods is equally problematic.
For those who want to advance a supply chain career, the academic world offers a wealth of opportunities in continuing education, from a certificate in supply chain management to a Master's degree or Doctorate. Gartner's research identifies the leading programs.
A new offering from UL's Information & Insights (I&I) division hopes to help the industry streamline reporting while increasing compliance around conflict minerals.
Datasheets.com Parts Search
185 million searchable parts
(please enter a part number or hit search to begin)

EBN Dialogue enables you to participate in live chats with notable leaders and luminaries. Open to the entire EBN community of electronics supply chain experts, these conversations see ideas shared, comments made, and questions asked and answered in real time. Listed below are upcoming and archived chats. Stay tuned and join in!