In addition to locks, there is also technology used for covert tracking devices. The cost has gone down tremendously on these devices over the years. In the past, we didn't have anything reasonable to use, since solutions cost thousands of dollars per unit. Now, prices are closer to $175 to $300 per unit.
Another area of opportunity we see is better communication between OEMs, shippers and the parties they hire regarding best practices and policies, as well as security devices and technology. Customers need to put those requirements in the contract.
EBN: How aware are people about this problem?
Cornell: In the electronics industry as a whole, there is a good awareness of it. I am a board member of Transport Asset Protection Association (TAPA) and I sit on that board with electronics people. I would tell you that the electronics industry as a whole has a good awareness of the theft threat and acutely aware of any losses they've had. But they are in early stages of the adoption curve. There are some computer manufactures that have been doing it for years. On an industry wide basis, however, there is room to grow. Awareness is always the first step with any crime. Once you have the awareness, then you can look at how to correct it.
EBN: Ultimately, what is the impact of cargo theft?
Cornell: According to FreightWatch, the average value of a stolen load of cargo is $120,000, but the average value of an electronics load is $232,000, so there is a significant delta. If you look at it on a microeconomic scale, you will definitely see that anything that has that kind of financial impact is reaching the consumer. That's where the average person's awareness around cargo theft is not there. I've been doing it for 17 years, and when an average person asks me about what I do, they have never heard it.
Defining the cost of cargo theft has been a big topic of discussion for years. Is it just the value of the load, or is it the value of the load, cost to remanufacturer those products, and the costs the manufacturer suffers from loss of marketspace from not having those items on the shelf at the holidays? In my opinion – and in most experts' opinions – these should all be added into impact of cargo theft.
EBN: What are some common cargo theft scenarios?
Cornell: In the U.S., less than 3% of cargo theft involves violence. It is the complete opposite in other parts of the world, such as South America, Central America and Europe, where violence is a daily occurrence. There's an old adage that cargo at rest is cargo at risk. In the US, the amount of freight is huge so at any moment there's a lot sitting still at rest stops and truck stops. Just in time (JIT) freight requirements have also had some impact on cargo thefts. Because of the requirements, you are pre-loaded. If it has to be there Monday mornings, they might be loaded on Thursday and Friday. They may not need to leave until Sunday, so it is parked and waiting, making it easy for cargo thieves to take without having any interactions with drivers.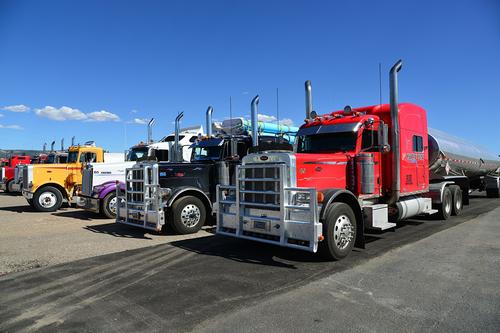 There are two categories of cargo theft. First is straight cargo theft where they physically go out and steal the tractor and trailer, or just the trailer. They find it sitting somewhere and they physically go out and steal it. Then there's strategic cargo theft, where thieves create fictitious pickups or ghost pickups. They trick you into giving them the cargo, without having to hunt it down. Together, these categories make up 85% to 90% of thefts.