It's not news that LED-based bulbs are replacing the venerable incandescent bulb. In many jurisdictions, the basic incandescent bulb (especially for higher wattages) can no longer be sold; only "specialty" versions are still allowed. The basic bulb has served us well for over 100 years, with the standard "Edison" A19 base in the U.S. and similar versions in the rest of the world (there are other standard bases in use, as well, such as the smaller candelabra).
The bulbs are available in wide array of wattages, envelopes, and configurations, and replacement bulbs are generally easy to find; even if an exact replacement is a problem, you can usually get one that is close-enough to tide you over. We're accustomed to the 1,000-to-2,000 hour lifetime of the incandescent and accept that we'll have to replace it.
Now the market is providing LED-based replacements for the A19-base bulb. These units package the LED driver circuitry in the base, so users can directly replace the incandescent unit with the LED-based one. However, packing the needed AC/DC LED-driver circuitry into the base is a physical challenge, and the heat of the LED and its driver adversely affect the reliability of the driver's components.
Yet there's a trend that is starting to gain traction, and a recent report "Integrated LED Lighting Poised to Challenge Traditional Light Bulbs" from market researcher IHS provides some numbers. The report indicates that designers of lighting fixtures — termed "luminaires" in the industry — are now starting to produce designs which recognize the reality of LEDs: the LED itself has a lifetime of tens of thousands of hours. If you design a luminaire and assume there will be no need to replace these LEDs during its service life, you can put the driver elsewhere in the product; you are no longer constrained to the classical blub form factor, shown below (in top image). As a result, thermal management is simplified while the driver and LEDs are both in better thermal situations.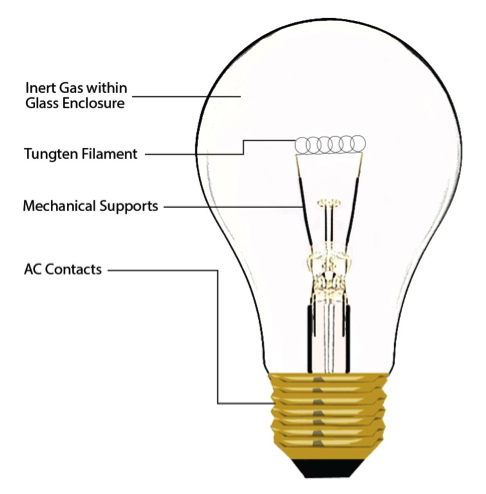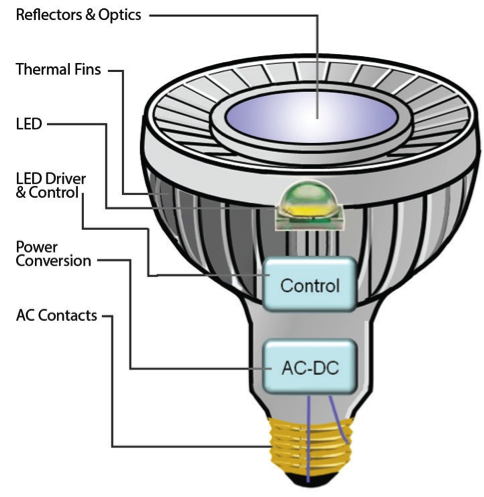 Tossing out the long-standing fundamental mandate that any LED-based luminaires must use replaceable A19-style bulbs gives designers a major new degree of freedom. These new luminaires can have new forms and shapes from an esthetic perspective, and can also be freed from the issue of their own heat degrading their reliability. It's a classic case being able to solve an old problem (in this case, luminaire design) in a very new way due to a new technology, just as the electric bulb was first retrofitted into gas and candle-based fixtures, but soon spurred entirely new types of designs as there was no longer a risk due to the open-flame source of light.
To read the rest of this article, visit EBN sister site EETimes.