BORDEAUX, France — The automotive industry is caught in a triple whammy. On one hand, carmakers see the decline in consumers' appetite for car ownership. Meanwhile, their own once-inviolate turf is getting trampled by high-tech entrants developing software to enable new automotive capabilities. On the third hand, the Volkswagen scandal — a venerable German carmaker on U.S. emission standards — could be the straw that breaks the rollbar.
Against this background, regulators, automakers and technology suppliers are gathered here at the annual Intelligent Transportation System (ITS) World Congress to discuss the three biggest drivers of the industry today — "mobility as a service, electrification and automation," as Cees De Wijs, chairman supervisory board, ERTICO — ITS Europe, put it.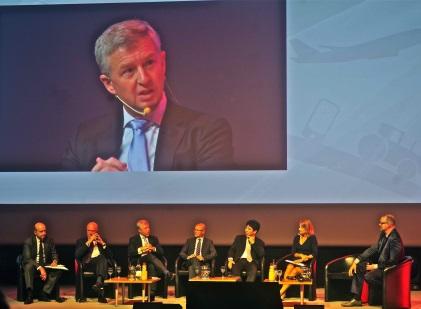 During Monday's (Oct. 5) parade of speakers, not one — including Violeta Bulc, European Commissioner for Transport — uttered a word about Volkswagen's Dieselgate fiasco, although they all talked about the importance of winning public trust as they pitch a future of autonomous cars. More unmentionable elephants were in the room, including Google and Apple, new entrants to the automotive industry. Neither high-tech firm is (physically) present this year at the ITS Congress.
Mobility as a service?
The automotive industry has been great at playing two cards — "Safety" and "lower carbon emissions"—to get attention and public funding. Autonomous cars are being promoted as accident-free, with a reminder that 90 percent of road accidents are reportedly due to human error. EU leaders also see as critical the de-carbonization efforts of carmakers. The EU has agreed to 40% greenhouse gas cut by 2030 against benchmark 1990 levels.
Carmakers are, however, newly adding the third card, "mobility as a service," to cozy up with regulators while re-inventing the industry.
Bulc, European Commissioner for Transport, pointed out during a press conference Monday, "Europe is aging. It's important to re-engage the elderly population and those with special needs into activities." One answer is shared autonomous cars.
Brigitte Courtehoux, director of the Connected Services Business Unit at PSA Peugeot Citroën, in her keynote speech, perhaps, best captured the shift in the wind facing carmakers. The key to success is shifting "from car ownership to car experience," she noted.
In her view, driving the automotive business of the future are "car sharing [for] those who can't afford to own cars and those who don't want to own cars." Summing up this change, she predicted that "a car company will become a mobility service provider."
That's a U-turn in heavy traffic probably easier said than done. EVs and driverless cars are a hard enough transition. Going from manufacturer to service provider requires a leap of faith uncharacteristic for decision-makers in a cautious industry.
Autonomous cars – questions of when
Leading up to the ITS World Congress, one of PSA Peugeot Citroën's four autonomous vehicles last week drove itself 580 km (360 miles) on the highway from Paris to Bordeaux entirely in autonomous mode. PSA Peugeot Citroën, which became the first carmaker to obtain the relevant authorizations to carry out open road tests in France using 4 autonomous prototypes, used the stunt to show off how far the company's technologies have come. The French company said, "The car autonomously adjusted its speed and changed lanes to overtake, taking into account other vehicles, speed limits and infrastructure."
To read the rest of this article, visit EBN sister site EE Times.
.