LAS VEGAS — With its processor cores installed in practically every automotive chip used in vision SoCs, sensor fusion ICs and secure microcontrollers, ARM, a microprocessor IP giant, has not only witnessed the automotive industry's evolution, but has become an integral part of the story.

Advancements in electrification and automation in driving technology have brought fundamental changes to the automotive industry. ARM sees these as prelude to even bigger challenges awaiting automakers and tier ones.

In an interview with EE Times during the Consumer Electronics Show, Richard York, vice president of Embedded Marketing at ARM, noted that the next big solutions will involve open vehicle platforms, software-defined cars, security, and built-in connectivity for over-the-air software updates.

At this year's CES, ARM brought Renault's Twizy to its booth, typically full of mobile devices.

Calling Twizy "the world's first OEM open-source vehicle," York explained that Renault is already seeing in action a wave of open-source hardware and software developments.

"Some of our customers have been already customizing Twizy for their own specific needs," said Pierre Delaigue, innovation project manager at Renault Innovation Silicon Valley (Sunnyvale, Calif.). "This was happening in the dark, without getting us involved."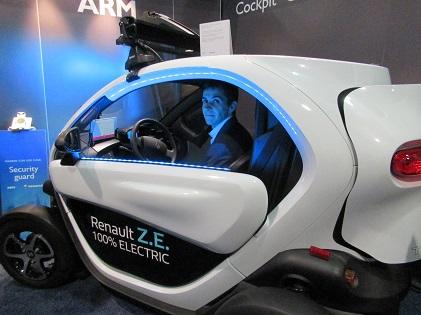 Rather than preventing customers from tinkering with their vehicles – which would have been the traditional car OEMs' first instinct, "We decided to get ahead of them," Delague said. Renault saw the value in creating new opportunities by enabling customers to develop their own electric vehicles or their own new applications.

ARM helped Renault open Twizy software and hardware architecture to build new features and interoperability with ARM connected devices. "We wanted our customers to do this in a proper, safe way," said Delaigue.

Specifically, ARM helped Renault open the interface to Renault's vehicle data so that Twizy customers can make adjustments in vehicle's speed, pre-defined routes, etc. – according to the way they want to manage their Twizy fleets. Some people, for instance, may want to customize Twizy for pizza delivery.

Meanwhile, Renault opened the hardware platform, allowing customers access to engineering drawings and to necessary parts and suppliers so that they could, for example, change Twizy from a one-seater to two-seater or add LED lights whose colors match their logos.

Describing the joint effort as organic and spontaneous, York said the initiative took off just over the last few months without the two companies signing any formal partnership agreement. "If we had to go through such a formal process, today, we would be still discussing when to make a public announcement," said York.

Asked if the open-source platform will be the way of the future for other vehicles as well, Renault's Delaigue only said, "It's a good question." The fact that Twizy is an EV, small and simple, made its modifications easy, he explained.

OSVehicle is another company helping to build open-source momentum.

OSVehicle's mission is to enable businesses and startups to design, prototype, and build custom electric vehicles and transportation services. Tin Hang Liu, founder and CEO, who has seen the Open Source Hardware (OSH) movement take hold, told us, "Our idea was to provide an open framework as a chassis to build vehicles."
To read the rest of this article, visit EBN sister site EETimes.



More Blogs from Junko Yoshida
Apple's upcoming iPhone 8 with a "3D camera" is the subject of intense speculation. Dots yet to be connected are the explicit relationships among the iPhone 8, single photon avalanche diodes and STMicroelectronics.
Intel's Mobileye acquisition has stirred mixed emotions and contrasting reviews among those who cover the industry. Semiconductor Advisors LLC, for one, said "Intel is taking a leap of faith to go very far outside its core business."
Is Intel getting ready for Apple?
Now that motion, touch, and voice are old hat, "touchless" looms large and lucrative as the next user interface (UI) of choice for consumer devices.
How many autonomous driving startups are out there # waiting to be snatched up, or hoping to become the next Waymo (formerly the Google self-driving car project)?
Datasheets.com Parts Search
185 million searchable parts
(please enter a part number or hit search to begin)

EBN Dialogue enables you to participate in live chats with notable leaders and luminaries. Open to the entire EBN community of electronics supply chain experts, these conversations see ideas shared, comments made, and questions asked and answered in real time. Listed below are upcoming and archived chats. Stay tuned and join in!