SAN FRANCISCO — Derek Chen (pictured below) claims he has as many as 20 virtual reality platforms in the lab at his Vancouver office. He co-founded a company now writing applications for many of them because he thinks they represent the next big thing in computer gaming.
Chen's demo with clip on glasses (second picture below) was just one of a handful of the headsets and goggles on display at the Game Developer Conference here. The latest prototypes from Facebook's Oculus were by far the most widely shown.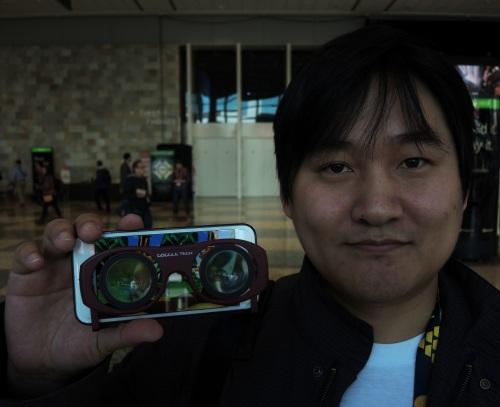 This next big thing is getting out ahead of even of the market watchers most focused on graphics and gaming. "We are developing a model for the segment, but we are not ready to release data yet," said Jon Peddie, principal of Jon Peddie Research.
"The models currently swing from shipments of 100,000 to six million units a year, so it needs a little work," Peddie said in a GDC talk about the past and present of computer gaming. "Big headsets like Oculus and Sony's Project Morpheus give you one number, but with devices such as Samsung's GearVR the numbers go up astronomically because Samsung's dream is to get one of these in every cellphone shop," he said.
In the following pages, Peddie gives his update on today's mainstream computer graphics hardware, and we take a look at a few of the next-gen VR prototypes including models from Oculus, Google and an open source alternative.
Next page: Android drives growth in mature game hardware