NEW YORK – GlobalFoundries' Fab 8, one of the largest semiconductor fabs in the United States, sits on 233 acres of the Luther Forest tech campus in Malta, N.Y. A tour of the plant and an affiliated research center in nearby Albany provided a look inside an operation that now carries the DNA of chip giants such as AMD, IBM and Samsung.
The Malta facility stands at the bleeding edge of the company's nine fabs worldwide. It now produces 14nm chips while working on 10nm processes and beyond and leads the company's manufacturing initiatives.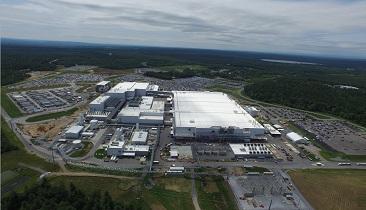 An expanding Internet of Things may not need the performance of such processes and could stretch out the lifespan of existing nodes such as 28nm. Officials here aren't worried about demand stalling despite the fact new nodes are getting more complex and costly.
"I think it stagnates if you can't keep Moore's Law going which is not just about shrink, but better performance and lower cost per circuit," Tom Caulfield, general manager of Fab 8, told EE Times, adding that 28nm and 14nm nodes both will have a long life. "As long as I've been in the industry people have been talking about [the end of] scaling, yet we always manage to keep innovating and scaling," he said.
Caulfield, an industry veteran who spent 16 years at IBM and served as COO of several other companies, said he is invigorated by the problem solving GlobalFoundries must do to support a consolidating semiconductor industry. "When you run out of problems, that's when you should really be worried," he said.
Click through to see how GlobalFoundries is finding, solving, and creating challenges.