The European Union believes the worldwide market for robotics will grow from US$30 billion (€22 billion) this year to $83 billion (€60 billion) by 2020. The Commission wants Europe to have a leading role developing new robotic products and technologies.
To address European needs and with the goal of driving new developments in the robotics market, the European Commission, together with industry and research leaders, has announced the new Partnership for Robotics in Europe, code named Sparc, together with a six-year investment of $3.9 billion (€2.8 billion). The deal aims to out-invest the United States, Japan, and South Korea in developing all things robotic.
Speaking at the 6th International Trade Fair for Automation and Mechatronics in Munich, Germany, Neelie Kroes, vice president of the European Commission for Digital Agenda said:
Europe needs to be a producer and not merely a consumer of robots. Robots do much more than replace humans -- they often do things humans can't or won't do, and that improves everything from our quality of life to our safety. Integrating robots into European industry helps us create and keep jobs in Europe.
One of the main challenges is to change public perception about robots. Today 70% of EU citizens believe that robots steal people's jobs. While the reality is that the industry currently supports 3.6 jobs for every industrial robot in use, the Commission expects the robotics market to help create 2 million jobs over the next eight years.
The biggest threat to European and American manufacturers is competition from low-wage labor in Asia and other developing regions. The only way for the West to safeguard its manufacturing facilities and bring some production back is by using automation.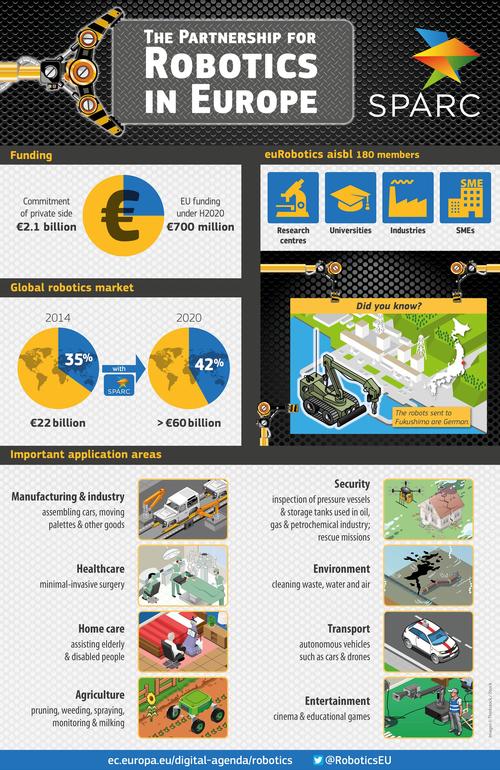 The Sparc initiative goes beyond industrial use. The EU wants to tap into markets such as minimal invasive surgery, autonomous vehicles, home care robots for the elderly, agriculture, security, and entertainment.
Kroes added:
The EU has already committed €700 million for robotics research in our next funding programme. And the industry has agreed to match that, three-to-one, with over 200 members expected, together employing over 12,000 researchers and developers. That would make it the largest civilian robotics research and development program in the world -- something which will, altogether, create 75,000 new qualified jobs in service robotics and 140,000 new jobs in wider service industries and [give] a boost of €80 billion to GDP.
The Sparc initiative will provide funding to projects with multiple players, where industry, research centers, universities, and SMEs can work together. European organizations can team up with countries that are members of the EU Framework Programme for Research and Innovation Horizon 2020, such as Israel, which has long experience in robotics research.
President of euRobotics Bernd Liepert said: "SPARC will ensure the competitiveness of European robotics industries. Robot-based automation solutions are essential to overcome today's most pressing societal challenges -- from demographic change to mobility to sustainable production."
This article was originally published on EBN's sister publication EE Times.