The British Broadcasting Corporation plans to give to every 11-year old starting secondary school in the U.K. this autumn a tiny, programmable device called the Micro Bit as part of its Make it Digital initiative aimed at improving technology skills in the country.
The company suggests it will need a million of the stripped down embedded software platforms to enthuse a new generation about coding, programming and new technology. The device is basically a PCB with some LEDs and a single micro-USB connector, powered by a watch battery – somewhat similar to the amazingly successful Raspberry Pi, a single board computer.
The exact details of the device are still under wraps, with the current hardware officially termed a prototype until it starts shipping in August. Nor is the BBC giving much away about the cost of developing and manufacturing the Micro Bit, or the total being spent on the Make it Digital initiative.
The broadcaster stressed it does not see the device competing against the Raspberry Pi or similar development boards such as the Arduino, Kano, or Intel's Galileo. Instead the Micro Bit aims to act as a springboard to more complex programmable devices and computers. In fact, collaboration is built in with a Bluetooth link enabling it to communicate with the Raspberry Pi and other devices.
The Raspberry Pi Foundation, which has shipped five million of the credit-cards sized boards over the past two years and built momentum for its somewhat similar initiative, said it would develop learning resources for the Make it Digital project.
The Micro Bit aims to be compatible with three coding languages -- Touch Develop, Python and C++. It is even smaller than the Raspberry Pi, and the device includes a safety pin at the back, making it wearable.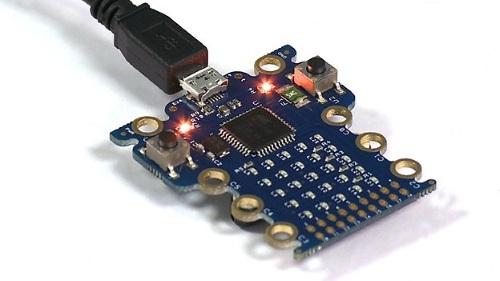 The BBC said it wants to recreate the buzz and excitement that a previous project achieved in the early 1980's with the introduction of the BBC Micro that also was augmented by a series of radio and TV programs. This time around, the company also hopes to help reduce the UK's skills imbalance and encourage a whole new generation of engineers.
The broadcaster is planning a season of coding-based programmes and activities, including a drama based on Grand Theft Auto and a documentary about Bletchley Park, the top secret de-coding operation that significantly shortened the Second World War through the efforts of scientists such as Alan Turing.
The project is supported by a host of partners, who will contribute to the funding of the project, including Freescale, Samsung, Microsoft, Nordic Semiconductor, as well as CodeClub and, predictably, ARM.
Next page: Hopes and controversies rise